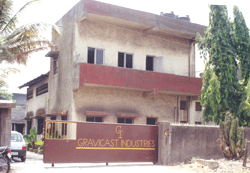 About Us :

We are one of leading manufacturers of quality casting in Alluminium & Zinc Alloy Our Factory Is Located at C1-6103/D Fourth Phase GIDC, Vapi.
The company made its humble beginning in the year 1984 with only " Gravity Die Casting" situated at 40 Shed area in GIDC Vapi Slowly but steadily we worked upon the customer requirements winning their approval and confidence, moving ahead under the able and sound guidance of our founder Mr. Shivaji More.

He Is a mechanical engineer who had worked in the same field of castings for 10 years before venturing into his own business by the name of Gravicast Industries with the increasing demand for die making and production it became inevitable to have two separate identities and independent working thus giving birth to GRAVICAST ENGINEERS in the year 1986 at third Phase GIDC Vapi.

At Gravicast Engineers A full fledged Tool Room, we have the latest state of the art machinery, We do die design, development and manufacturing of dies for Gravity and pressure die casting process and also carry out all types of critical machining jobs catering to industries in and around Vapi Various types of machines include CNC Vertical Milling Center (BMV) Milling Machines, Spark Erosion, 3-D Pantograph And All Relevant Tool Room machines along with inspection and testing instruments.

At GRAVICAST iNDUSTRIES situated at fourth phase GIDC Vapi we cater to various type of manufacturing industries providing services ranging from manufacturing machining & finishing We are a team of well managed sincere and dedicated engineers and workmen working to wards a common goal of producing quality casting to the entire satisfaction of the customer.

All our employees are trained properly to adhere to the strict quality norms required by the competitive industry.
It being for the receipt of raw material till the final dispatch.
All parameters influencing the die life & component finish are given proper attention & record maintained to take its history.

We have below instead machineries in our production shop capable of molding quality components from 5 grams to 3000 grams.